Welcome to the Maple Lane Resort
A classic inn & motel located on the southern shore of Little Glen Lake on iconic route M22.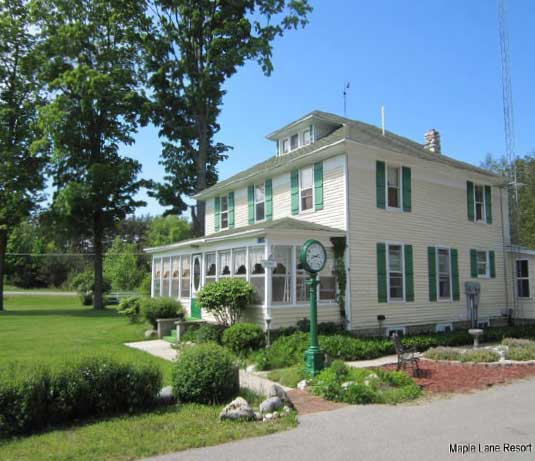 Accommodations
The Maple Lane Resort offers victorian-style inn and mid-century motel accommodations at our unique waterfront property overlooking Sleeping Bear Dunes National Lakeshore. The resorts's convenient location just minutes from both villages, Empire and Glen Arbor, brings distinctive shopping opportunities, more than a dozen dining options and beautiful sunsets over Lake Michigan to your fingertips.
Enjoy Your Stay
Surrounded by the Sleeping Bear Dunes National Lakeshore Park and 38 miles of spectacular beach, the Inn is located within an easy drive to the peninsula's award-winning wineries, golf courses and fine dining.

Family Centered Hotel in Ideal Location
If you are looking for rest, relaxation and renewal, stay for a few days at Maple Lane Resort. The owners and the managers understand customer service.
Steve D.

Annual Family Up North Vacation
We are long time visitors to Maple Lane Resort. This charming place has so much to do! Kayaks and SUPs are free for guests!
User – Sksavoie

Great for Families!
It's in a great location to explore the Sleeping Bear Dunes region. You can see the Dune Climb from their beach! It's just a short drive to the pristine shores of Lake Michigan.
User – Akhurtado
Top Rated Food & Drinks
Have a unique dining experience from some of Northern Michigan's top rated local restaurants, wineries, breweries, and cafes. There is something for everyone!
Unique Shopping
Explore unique local shops and purchase handcrafted Michigan products that you will not find anywhere else. Find that perfect gift to bring back home!
Local Attractions
Enjoy the country charm of Northern Michigan's beautiful surrounding areas and local attractions. From the Sleeping Bear Sand Dunes to Crystal River and everything in between.
Join our favored guest list
Enter your email to be the first to find out about special deals for your next visit to Northern Michigan.


8720 S Dorsey Rd
Empire, MI 49630
(231) 334-3413
Off Route M-22, this straightforward hotel occupies a quaint clap board house and annexes dating from 1901.